Train Treks For Kids
Ride the Capitol Corridor on your next school field trip!
Capitol Corridor's Train Treks program offers discounted train travel for school and youth groups Kindergarten through Grade 12.
Teachers can arrange trips to the best spots in Northern California for a significantly reduced fare
Groups of 20 or more can travel in a convenient, safe, and fun environment while learning about train travel. Seating is first-come, first-serve, so we ask that you submit your reservation request at least 21 days in advance of your desired travel date by completing the Online Group Travel Reservation Request Form.
When planning your trip, please note that one adult chaperone (18 years or older) is required for every six children. The total number of adults can equal, but not exceed, the total number of children traveling. Before submitting your group travel request, please have an accurate count of the number of children and adults who will be traveling. Adjustments to the reservation cannot be made after you receive your confirmation, and you will be required to pay for the seats you have reserved. No refunds are given after tickets are purchased.
For more details on how to plan and set up a Train Treks trip, be sure to read our FAQs.
Fun and Educational Destinations
Capitol Corridor travels along a 170-mile corridor with many destinations to stop and explore! Whether you choose to visit the California State Railroad Museum in Sacramento, Pier 39 in San Francisco, or the Tech Museum of Innovation in San Jose, Train Treks will make your trip convenient and fun. Other locations to consider include:
Note: Additional transit may be needed to travel to/from some destinations.
Planning Your Trip Is As Easy As 1-2-3!
Confirmed reservations are required for Train Treks travel. Enjoy your trip on the Capitol Corridor!
Complete the Online Group Travel Reservation Request Form at least 21 days before your intended date of travel. The Capitol Corridor Group Desk will process your application request and notify you within six to eight business days whether your trip has been confirmed. You will receive a fax and/or email with your reservation number, confirmation documents, and invoice. Please note your trip is not confirmed until you receive confirmation documents.
Create a Passenger Name List
Along with your confirmation documents, you will be sent a blank Passenger Name List and Trip Finalization Form that you must return to Capitol Corridor/Amtrak prior to your trip. These forms are due 10 days before your date of travel.
Purchase your tickets
Bring your confirmation letter, invoice, and a copy of your Passenger Name List to any staffed Amtrak station, at least seven days prior to your date of travel to purchase your tickets. Please pay with cash, a credit card or school/ business check made out to "Amtrak." Personal checks are not accepted. Adjustments to the reservation cannot be made after you receive your confirmation. You will be required to pay for the seats you have reserved. No refunds are given after tickets are purchased.
Get Started Today - Online Group Travel Reservation Request Form
Current Fares
For the Train Treks program, the Capitol Corridor route is broken into three fare zones: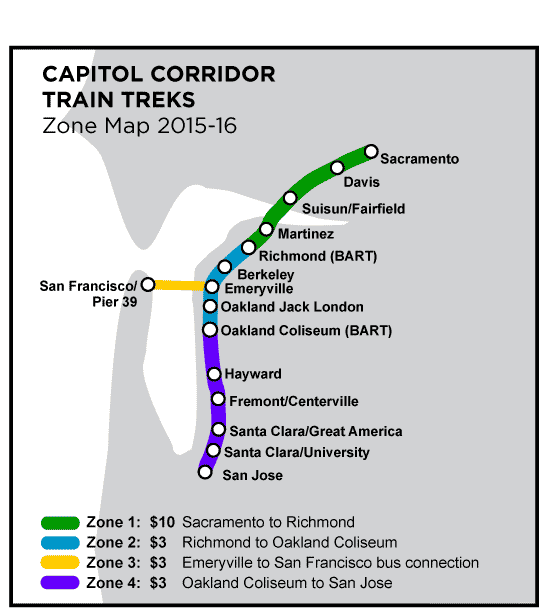 Zone 1: Sacramento to Richmond = $10 roundtrip per person
Zone 2: Richmond to Oakland Coliseum = $3 roundtrip per person
Zone 3: Emeryville to San Francisco = $3 one way per person, $6 roundtrip per person
Zone 4: Oakland Coliseum to San Jose = $3 roundtrip per person
The roundtrip cost per person (adult chaperone and youth) to travel to and from stations within each zone is based upon congestion pricing. Groups are not allowed to travel onboard trains between Auburn and Sacramento.
Sample Fares
Sacramento to San Francisco PIER 39 = $19 per person, roundtrip
Richmond to San Jose = $6 per person, roundtrip
Fremont to Sacramento = $16 per person, roundtrip
Box Lunches
Box lunches are available for groups of 50 or more passengers. Price is $6.50 each and contain:
Half sandwich (turkey and american cheese on wheat bread)
Goldfish Graham cookies (chocolate or cinnamon)
Lay's classic potato chips
Naturally sweetened applesauce
Box juice drink (assorted flavors)
Select downloadable Train Treks information and forms from the menu above.
Train Treks Restrictions
Train Treks offer is subject to space availability and is only available on Capitol Corridor trains and is not valid on any other Amtrak service. Train Treks rates cannot be combined with any other promotional discount or offer. Offer may be cancelled at any time without notice. This offer is available only through Capitol Corridor's Group Reservation system using the procedures outlined above.
Space for Train Treks groups is limited. Trains that do not accommodate Train Treks for Kids groups include #523, #525, #542 and #742. The following trains do not accommodate group travel on Fridays: #543, #536, #544, and #547.
January 2-4
February 13
February 16
April 2-3
April 6
May 22
May 25
July 2-3
July 5
September 4
September 7
October 12
November 24-25
November 28-29
December 19-23